Hear what the locals have to say
A very small but intimate place! Came here for a yelp event and the owners are nothing shy of spectacular! My favorites are the fruit punch and apple pie vodka! I can't wait to bring my friends here! I need to go back to buy those bottles! The fruit punch is so sweet and delicious it's DANGEROUS! It can easily be drank over ice! Or with some juice to mix it.
Hong Torrez
Great place! The people are friendly and will always show you around, talk about their new ideas, and let you sample the drinks!
Josef Lowry
Small business with great people! They make the best vodka I have ever had! Friendly and easy-going!
Frank Moser
Went with group of friends for a tasting and left with a bottle of Apple Bourbon.
Ruben U.
I don't know if I can say enough good things. Went here with my wife and her parents and was greeted by Sean. After talking us through the history and the options we each had a flight of tasters and from everything I have tasted. The black label vodka is the smoothest thing I have ever tasted. We spent about an hour and a half in total there tasting and chatting and left with 6 bottles. Could not have been happier with our experience and I can confirm we will be returning. Highly recommended to everyone!!!
Ken Weaver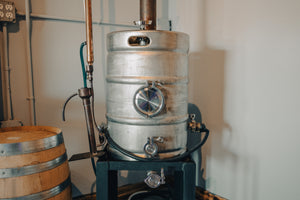 A decade of Spirit
We've recently celebrated our 10th Anniversary of business and can't thank our community enough for their support! Cheers to another 10 years of amazing distilling.
Our story
Tasting Room Locations
2908 Meridian Ave E #102, Edgewood, WA 98371
(253) 337-1379

Friday 4–8 PM
Saturday 4–8 PM
Closed Sunday - Thursday